Official Skreddy Pink Flesh Page HERE
Pink Flesh Mk. 1 (200+ made?)(released 4-2007, retired 1-12-08)(Mk 1 circuit changed at #142, to a BC109 transistor in Q4 from a 2N5133)(The Pink Flesh MkII used the same pig design as the original, but with a black pig ((some of the original Pink Flesh pedals had black pigs as well)), no bezel around the LED, and a yellow/orange LED instead of a pink/purple one.)(How many made?)(Highest known number – )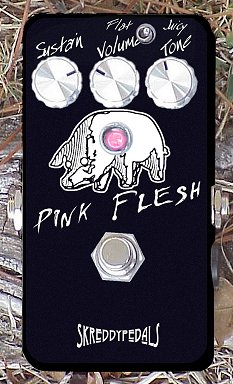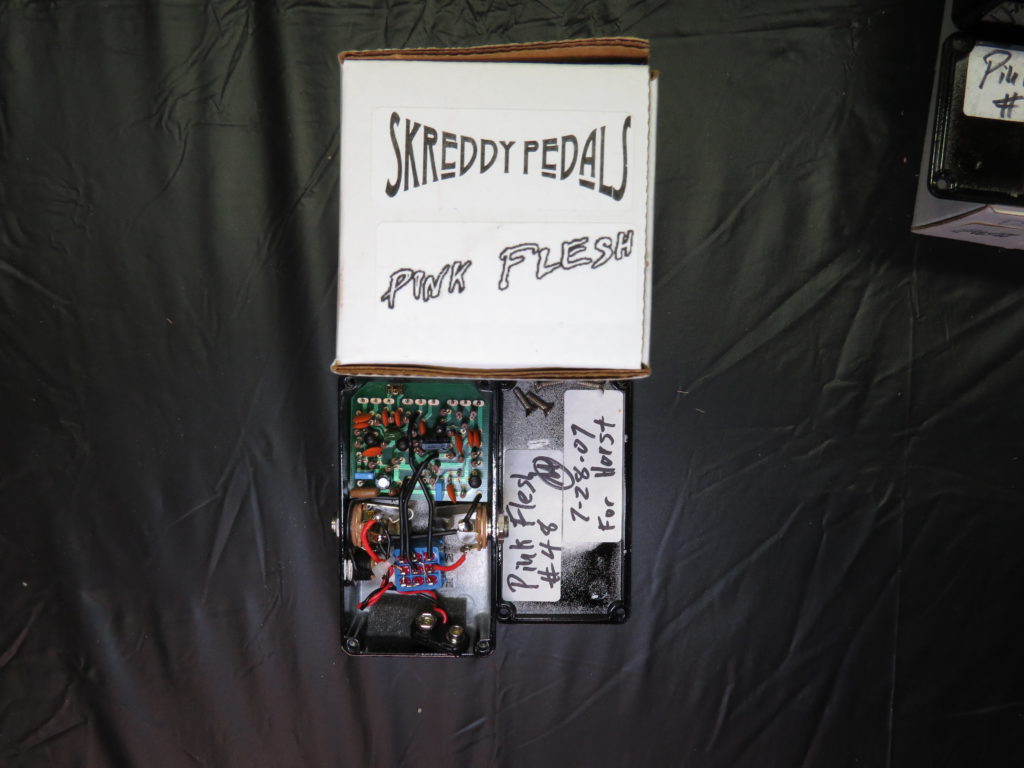 Marc says (via TGP):?

"Basically, the Pink Flesh is going for the woody and warm Big Muff tones like on The Wall. The tone stack goes from flat to mid hump with the switch (as opposed to scoop to flat with the Mayo).

"I was on a mission to try and get the sound off the album, which is highly processed in multiple stages. As a result of getting rid of all the "fizz" in the tone, some of the PF's did end up sounding a bit muffled. But that same tone worked well as a liquid sustain type of effect; plus you could turn up the tone knob, with the switch set to "Juicy" and get plenty of cut without killing all the low end."

"The Pink Flesh is different from a typical muff in exactly the way I describe it on my site. It's got no mid scoop--actually there's a switchable mid boost, and there's a bit of extra filtering both in the high end and the low end. So it sounds a lot like what Gilmour's muff would end up sounding after all the other processing his rig and/or recording technique added to/subtracted from it. Basically it focuses more on the guitar's fundamental frequencies rather than adding a huge wall of fuzz to the notes. Still the same power and sustain as a normal Big Muff, though."