Official Skreddy Cognitive Dissonance Mk. 3 Page HERE
Cognitive Dissonance Mk. 3 (released mid 2011)(#0 dated 10-5-11)(How many made?)(Discontinued 5-25-15)(How many made?)(Highest known number – )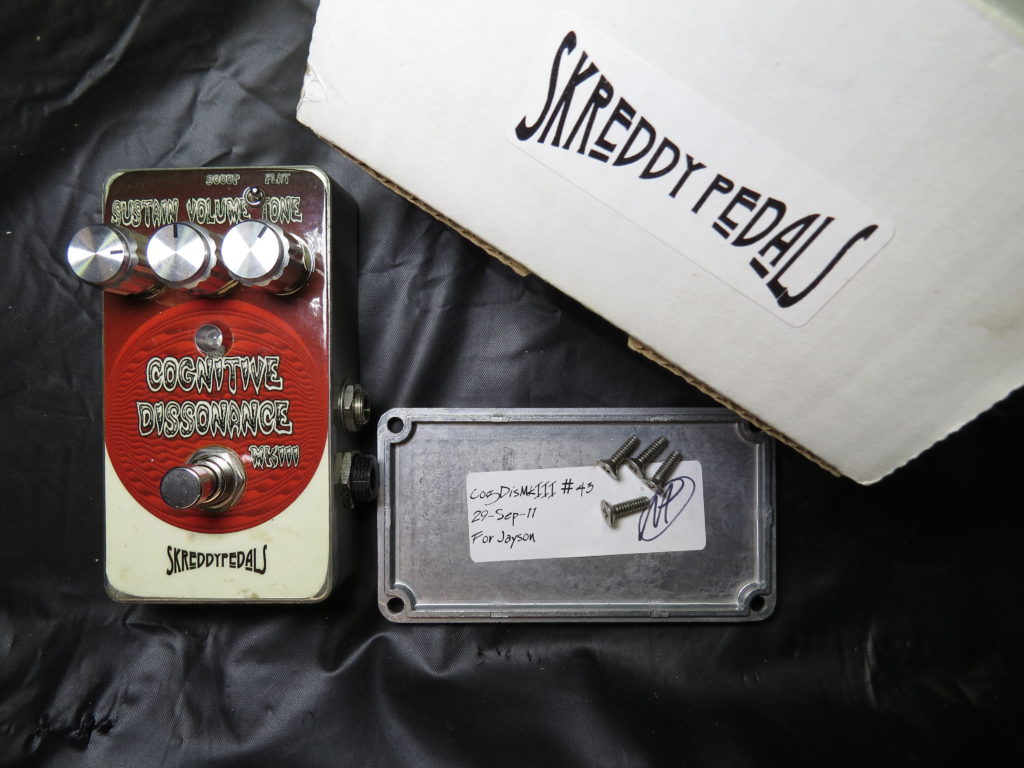 Powerful and high gain while fairly tight and articulate, this fuzz pedal's versatility lends it to many different musical applications; it's not voiced after any particular genre or artist.
Even while creating a wall of fuzz, the Cognitive Dissonance MKIII retains excellent string separation in chords. Lower sustain knob settings are articulate; not too mushy, doesn't destroy your attack.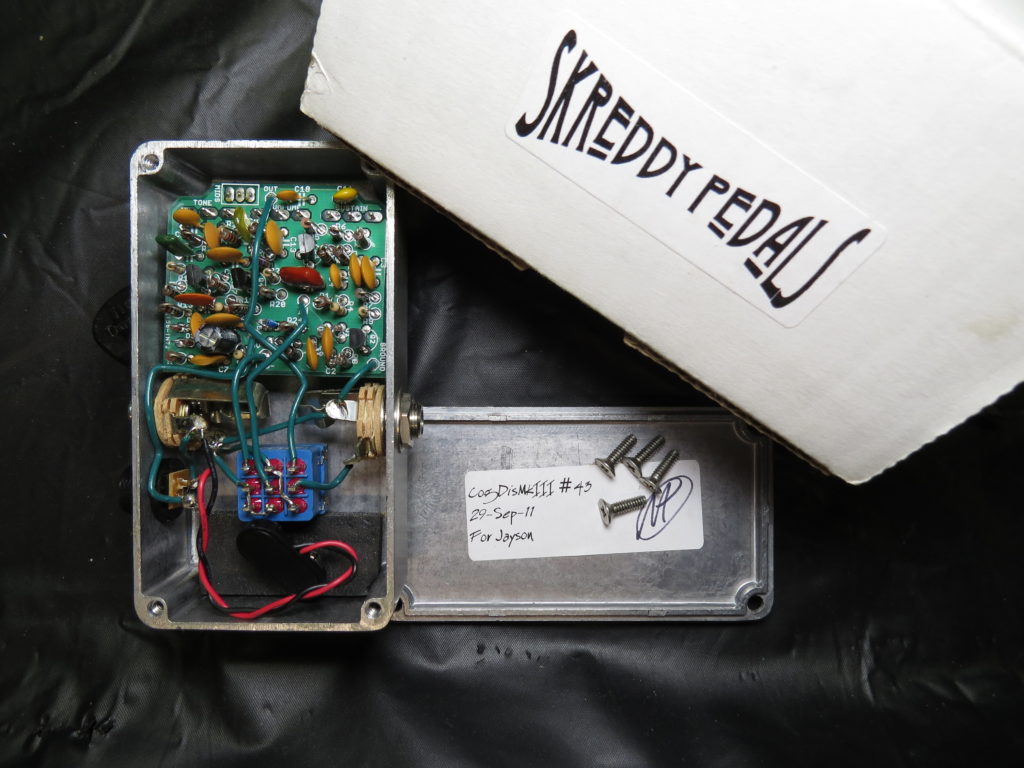 Oh yeah, I forgot to mention; my Cognitive Dissonance MkIII is a more general-purpose type muff. It's refined like the P19 but not targeted to the Gilmour sound in particular, so it's got a fuller low end. The reason those are expensive is they're made from an obsolete transistor, the same type as used in the Zero and Ernie pedals (which are also still available; you just have to go to the "old favorites" section of my website to find them).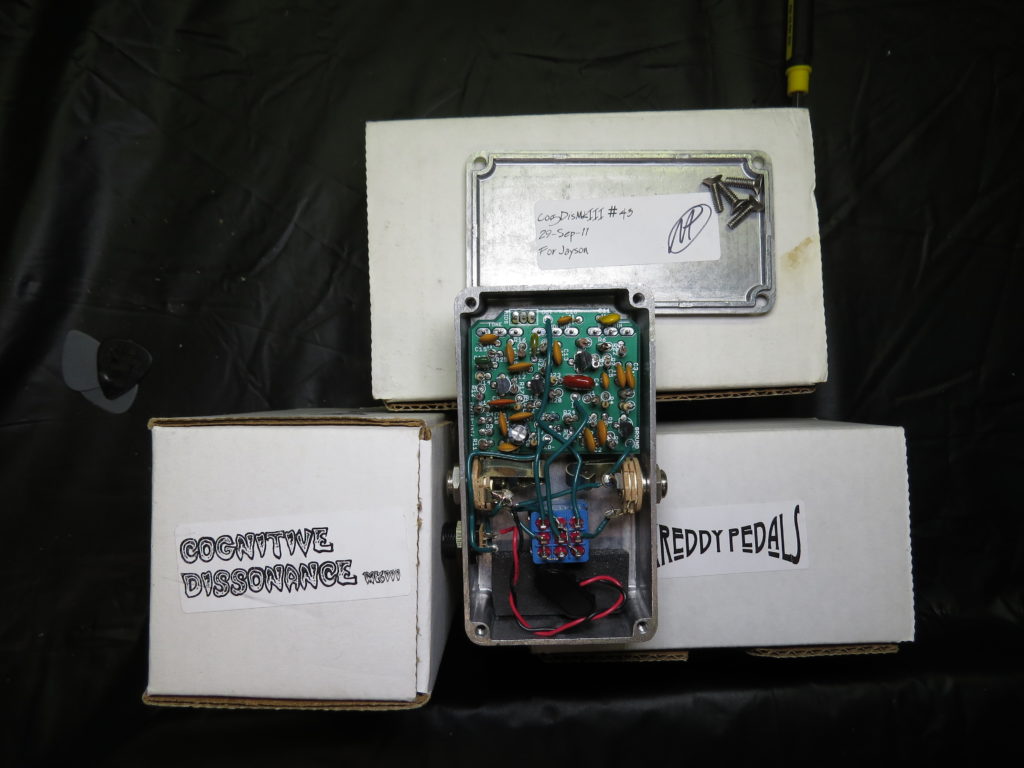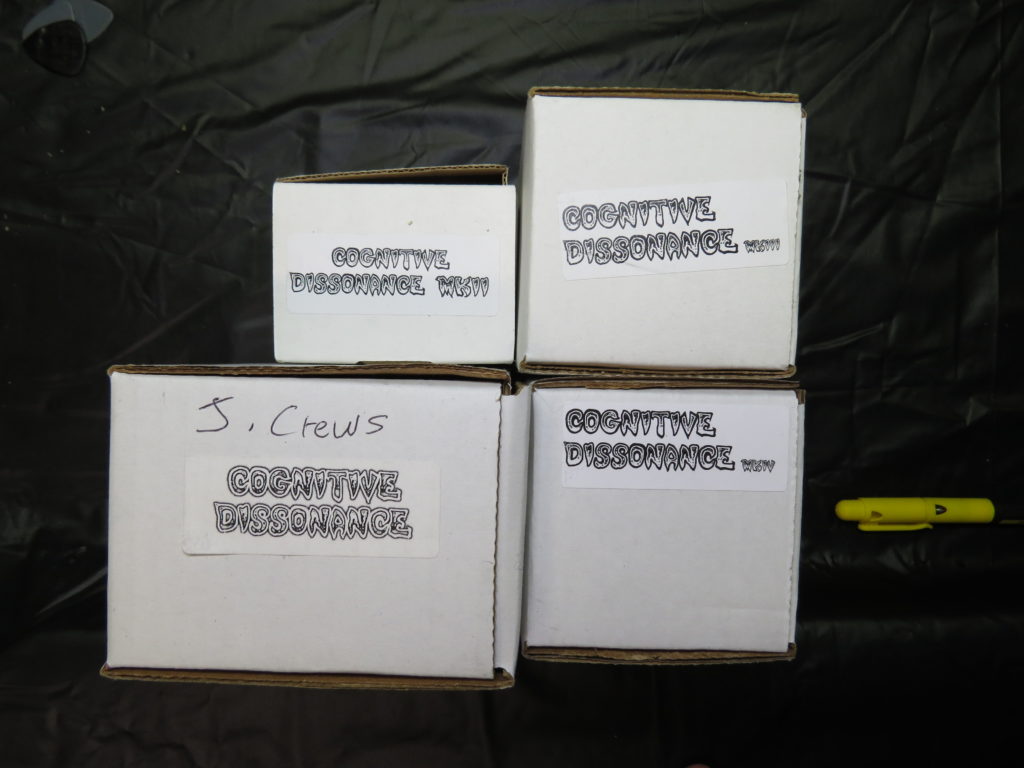 Marc Says (via TGP):?
"I use the same transistors in the Zero and the Cognitive Dissonance MkIII. The MkIII is set up to sound very balanced and is a very refined BMP circuit and has my proprietary modified tone stack."
"The CogDisMkIII…is made from the same type of 2N5088 transistors I use in the Zero and Ernie pedals, only in higher gains than those other pedals require. Same trick with filtering and gain reduction as the MkII makes them work great for a classic BMP tone that, while not modeled after a particular voicing or artist, will cover pretty much all your classic rams head tones including Gilmour and others. Very balanced tone with silky fuzz plus good articulation and sweet eq.
Oh yeah, I forgot to mention; my Cognitive Dissonance MkIII is a more general-purpose type muff. It's refined like the P19 but not targeted to the Gilmour sound in particular, so it's got a fuller low end. The reason those are expensive is they're made from an obsolete transistor, the same type as used in the Zero and Ernie pedals"